WASHINGTON—It's a piece of knowledge that may gnaw away at them forever: The death of their loved one was preventable.
Preventable because the person who killed them was in the United States illegally.
The election of President Donald Trump has given victims of illegal alien crime a bigger stage to voice their appeals, and they are using it to support the enforcement of immigration law.
Wendy Hartling's daughter Casey Chadwick was 25 years old when she was stabbed to death and stuffed into a closet by a Haitian man who had been in the country illegally since the early 1990s.
Jean Jacques was released from prison after serving 15 years for attempted murder; he subsequently violated parole and was jailed again, finally being released in January 2015. Immigration and Customs Enforcement (ICE) tried to obtain identity documents for him so they could deport him, but failed, and Haiti refused to take him back, according to an Office of Inspector General report on the case. Jacques killed Chadwick in June 2015.
According to a 2001 Supreme Court ruling, ICE cannot detain an illegal alien for more than six months if there is "no significant likelihood of removal in the reasonably foreseeable future."
Every single one of those crimes was not only preventable if our 
immigration
 laws had been enforced, but should never have happened on the second go-around, when the sanctuary city had custody and could have handed the alien over to ICE.
"I thought at first it was just me," Hartling said about being a victim of illegal alien crime. "But no, this is an epidemic, and it has to be stopped. And there are laws already in place. He was supposed to be deported. He wasn't. Why?"
Hartling spoke at an event in Washington on Nov. 2 for The Remembrance Project, an initiative launched to spotlight the lives lost to illegal alien crime.
The project started in 2009 when founders Tim Lyng and Maria Espinoza looked into the death of Houston police officer Henry Canales. They discovered that Canales had been shot by an illegal alien, and his widow was trying to sue the city of Houston for its sanctuary policies. Over the next few years, five of the six police officers killed in Houston were killed by illegal aliens.
Lyng and Espinoza had started researching how many victims of illegal alien crimes existed nationwide, and were staggered by how many they found.
Steve Woods was 17 when he was killed by a group of Mexican teens at a San Clemente beach in California in 1993.
Woods was impaled through the skull by a paint roller that was thrown at the car he was riding in while getting away from the other teens. He died after spending 25 days in a coma.
"It goes on. It does not stop. It does not end. There is no such thing as closure," said his mother, Kathy Woods. "But why do we have to fight so hard just for our rights, just to get justice?"
Louise "Gram" Sollowin, 93, was raped, sodomized, and beaten in her own bedroom in Omaha, Nebraska, in 2013. She died four days later.
The attack was carried out by Mexican national Sergio Perez, 18, who had been deported twice previously.
"The ferocity of his attack was so severe that in Gram's 12-foot by 14-foot bedroom with 10-foot ceilings, there was not 1 square foot of wall or ceiling that did not have at least a moderate amount of blood splatter," Bill Hartzell, her granddaughter's husband, testified in front of the Senate judiciary committee on Oct. 3.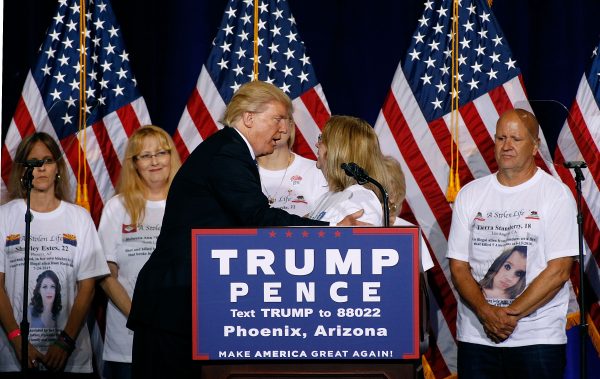 14 Percent
Kansas Secretary of State Kris Kobach said there is no way to tell how many illegal immigrants are in the United States, although the commonly used number is 11 million.
Kobach said the crimes committed by illegal aliens in the United States is "extraordinarily high" when compared to legal aliens and citizens.
"We can never know what the exact crime rate is, but we do know that it is disproportionately high," he said. He posits that the estimated 3 to 4 percent of the population who are in America illegally, commit 14 percent of crime.
That number comes from looking at the Federal Bureau of Prisons data that says about 22 percent of inmates are noncitizens—both legal and illegal. And about two-thirds of those were illegal before they were convicted of the crime, which gives 14 percent.
Sanctuary policies, lax enforcement by the federal government, and the Supreme Court ruling from 2001 have led to thousands of criminals being released back into communities over the years, rather than being deported.
As of June 2016, there were 191,161 convicted criminals with pending deportation proceedings who were at large in the United States, according to an ICE Weekly Departures and Detention Report.
Sanctuary Cities
Acting Director of ICE Tom Homan said that as of July 31 this year, almost 10,000 criminal aliens who have been released onto the streets—rather than being turned over to ICE—have committed another crime.
"Every single one of those crimes was not only preventable if our immigration laws had been enforced, but should never have happened on the second go-around, when the sanctuary city had custody and could have handed the alien over to ICE," Kobach said.
Sanctuary jurisdictions prevent local law enforcement from cooperating with ICE, most often by refusing to hand over a criminal inmate for which ICE has requested to take custody.
In sanctuary cities such as New York, Chicago, and large cities in California, ICE is forbidden to enter correctional facilities to question a person of interest, and in most cases, local law enforcement is banned from notifying ICE when an illegal criminal alien is about to be released.
Proponents for sanctuary policies say that the policies promote trust in immigrant communities and, therefore, immigrants will come forward to report crimes—purportedly making the community safer.
However, Department of Justice Acting Assistant Attorney General Kenneth Blanco said more often, people won't report crimes because they are afraid of retribution from the criminals.
"One of the things that concerns them is when they live in the same community in which these individuals have been released back into the community," Blanco said at a congressional hearing in June. "That worries them and that prevents them from coming forward."
Protections such as the U-visa exist for illegal aliens who are victims or witnesses of crime. And law enforcement officers don't ask the immigration status of witnesses and victims of crimes, unless they themselves have been arrested for a crime.
Legislation
Rep. Steve King (R-Iowa) said three immigration bills passed by the House in the last several months are all steps toward enforcing existing immigration law and closing sanctuary loopholes.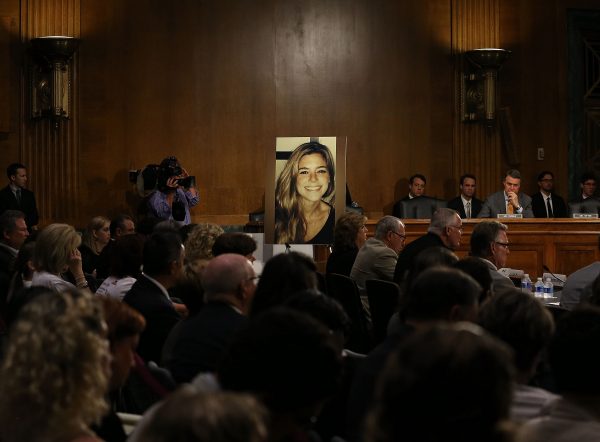 "Kate's Law," named after Kate Steinle, who was fatally shot in San Francisco by an illegal immigrant who had been deported five times, seeks to increase the penalties for illegal aliens who attempt to re-enter the United States after deportation.
The No Sanctuary for Criminals Act seeks to cut federal funding to jurisdictions that limit cooperation with ICE. The bill includes language from "Sarah's Law," named after Sarah Root, who was killed by a drunk driver who was in the country illegally. The man posted bail and disappeared. Sarah's Law intends to ensure the detention of illegal alien criminals who cause death or serious bodily harm.
And the Criminal Alien Gang Member Removal Act seeks to expedite the removal of alien gang members.
The three bills passed the House mostly along party lines and are now waiting for Majority Leader Mitch McConnell (R-Ky.) to bring them to the Senate.
Meanwhile, the family members of the victims continue to fight.
"We need to get everybody on the same page so that [this] won't happen to any other child," said Hartling.
Original Story: https://www.theepochtimes.com/as-families-mourn-the-loss-of-loved-ones-they-fight-lax-immigration-policies_2352267.html